I know it's been forever since I updated!!! I'm a really BAD BLOGGER... no bisquit!!! I do have several fairly good excuses!!! I've been trying to find out how to add several more hours to the day since 24 just doesn't seem to cut it!!! If anyone out there has any way to do this, Please share it!!!! LOL!!!
I have been knitting like a fool!!! Especially during April and May. I do sample/test knitting for yarn companies/designers and they go into overdrive just before TNNA!!! I'm sure not complaining, just ubber busy!!!!! I love working for these folks and they're great!!!
I've also been designing and teaching classes from my designs. The one I've just about got ready to go live with is my
Piggy's Pie Sweater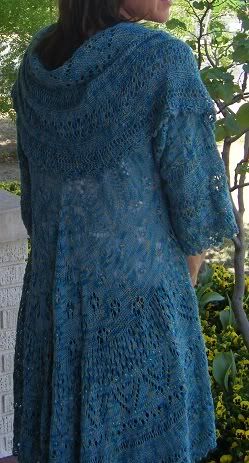 The ladies in my class are really having fun with this one and 2 of them already have yarn picked out for a 2nd!!! Of course they haven't been working on the border long..... it's a BIG border!!! They're going to post to Ravely soon!!
I've also got a shawl pattern in testing.
Celtic Fay
is going to be the next in line!!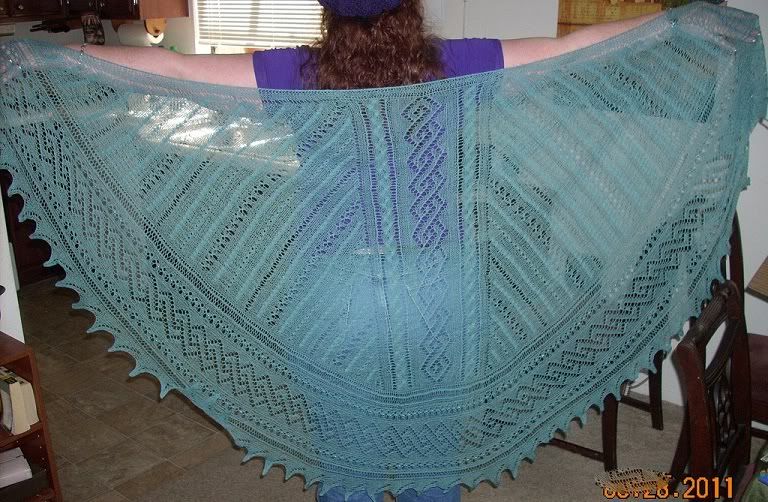 This was designed especially for my swap partner (whose great pic is shown here!!!) and is being knit right now by a Great Knitter!!!! Thanks Susan!!! She's sent me emails with great corrections and suggestions!!! It's going to be a piece of cake to get the pattern right with her help!!!
I've got a sweater on the needles right now for my DD to wear to a wedding. I'm using some of the pattern from above and doing a round sweater..... This is the middle and hopefully it will be finished soon!!!!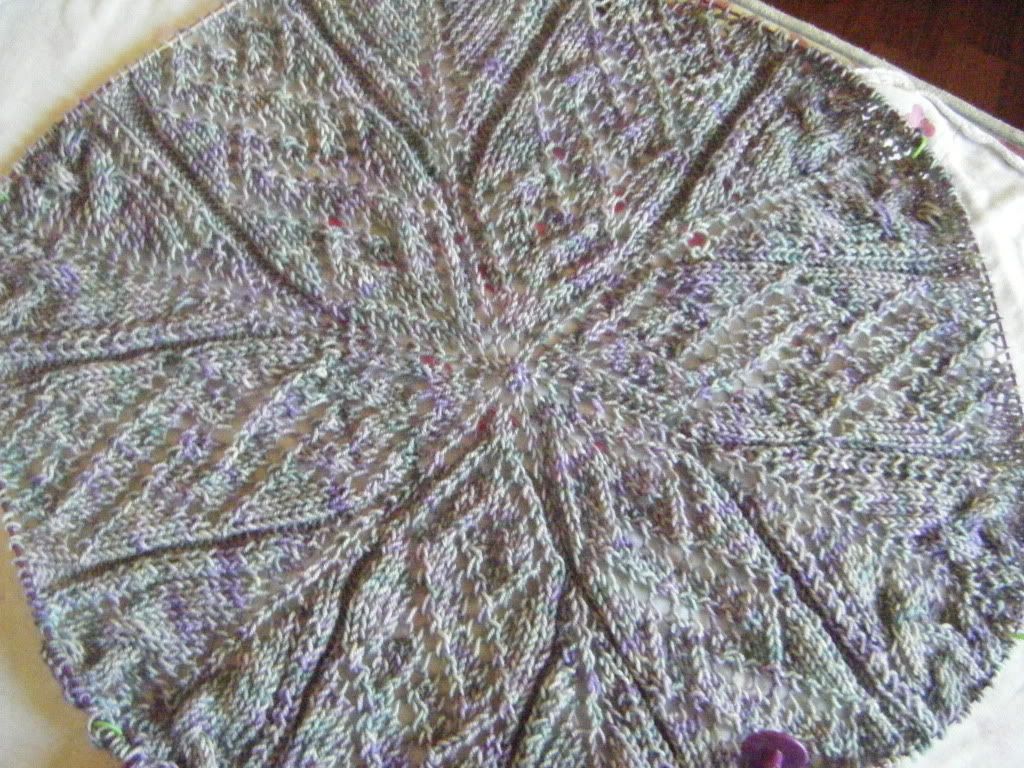 It's a great yarn that our LYS is handleing now.... Ella Rae Lace and it's just perfect for this!!! The colors in this pic aren't the greatest.... It's really prettier up close and personal!!!
I'm also working on a top-down sweater for the DD... it's done in Ty-Dy Sock Dots from Knit One Crochet Two and I LOVE that yarn!!!!
It fit me so I put in a band and when I tried it on here..... no way. Go figure.... I'm 5'2" and she's almost 6'...... why wouldn't it fit right??? Can you say DUH!!!!! So back to the drawing board for this one!!
I've also been trying my hand at spindle spinning and as you can see from these.... it's not going great, but it is soooooo going!!!
None of those balls are anywhere near as big as they look!!! LOL!!!
Our Knitter's Guild Monday night was a hoot!!! I got nailed by my Bestest Friend!!! She is a really wonderful workaholic!!! She made these for my piggy collection!!!!
Yes that's me.... looking like an idiot.... but is was REALLY FUN!!!!!!!! Love you, Connie!!!!
And DD is spending a month here with us. Her husband, my favorite SIL, had to go back to Germany, but she's staying until Aug 3!!! She's not much of a morning person....
But she does improve later in the day!!! She's been going to all my knitting groups and just hanging out. Of course she spending a LOT of time on the internet with her hubby!!!! Skype is great for them!!!!
I've got a lot going on and am just loving it all!!! DH is still driving a truck and at least he's here in TX right now!!! That means that he gets to stop by home more often, sometimes just long enough for a meal and a shower and then back on the road.... at least he gets to come home!!!! I love that man more every day..... I've soooooo got a winner!!!!!
I'll try to be a much better blogger now!!! I'll keep the next one short!!!!!
:D Carla