I'm stuck on sweaters right now!! My DD's celtic knot round sweater is finished!!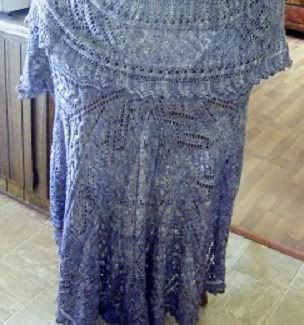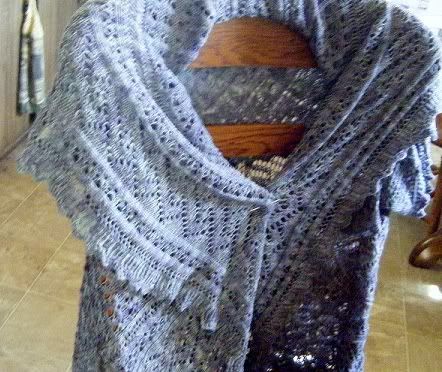 And Yes, that's a kitchen chair it's on. DD is still in bed asleep and you know the saying, "Let sleeping Bears Lay"!!! Well it goes for cranky DD's too!!!! LOL!!!! And yes, that's a nail holding it together... I couldn't find a shawl pin.... So what ever works in a pinch!!!
Next in line is another Piggy's Pie Sweater done for a lady from the LYS for her DD: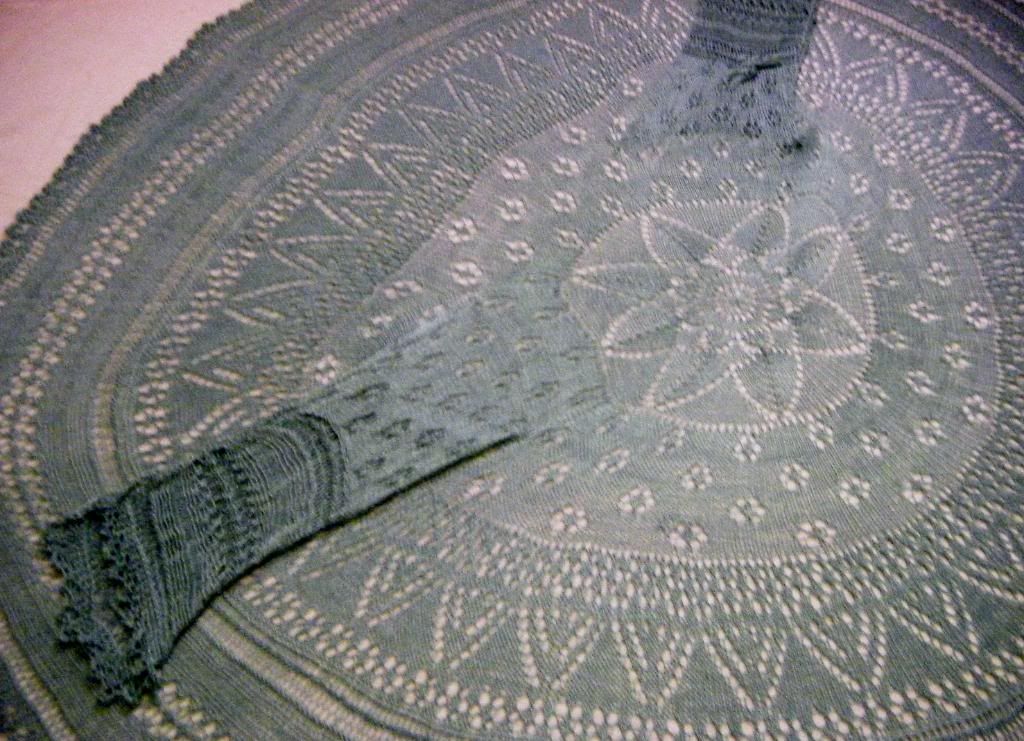 This is it laying out to block in my floor!!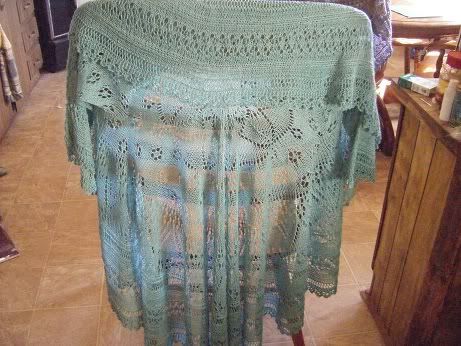 And this is it finished up and on the chair!! (Gertrude, my maniquin that I usually take pics on is on loan to the LYS to display a Piggy's Pie Sweater there!!) This is a small size and I hope to never see/work with Panda Silk again!!!! It literally eats my hands up!! I'm pretty sure I've got a Bamboo allergy or an allergy to something that is used in this yarn to process the Bamboo.
I've also been playing with the Tour de Fleece on the Corgi Hill Farm group on Ravelry and spinning away on the great fiber I got from them!!! This is awesome fiber!!!!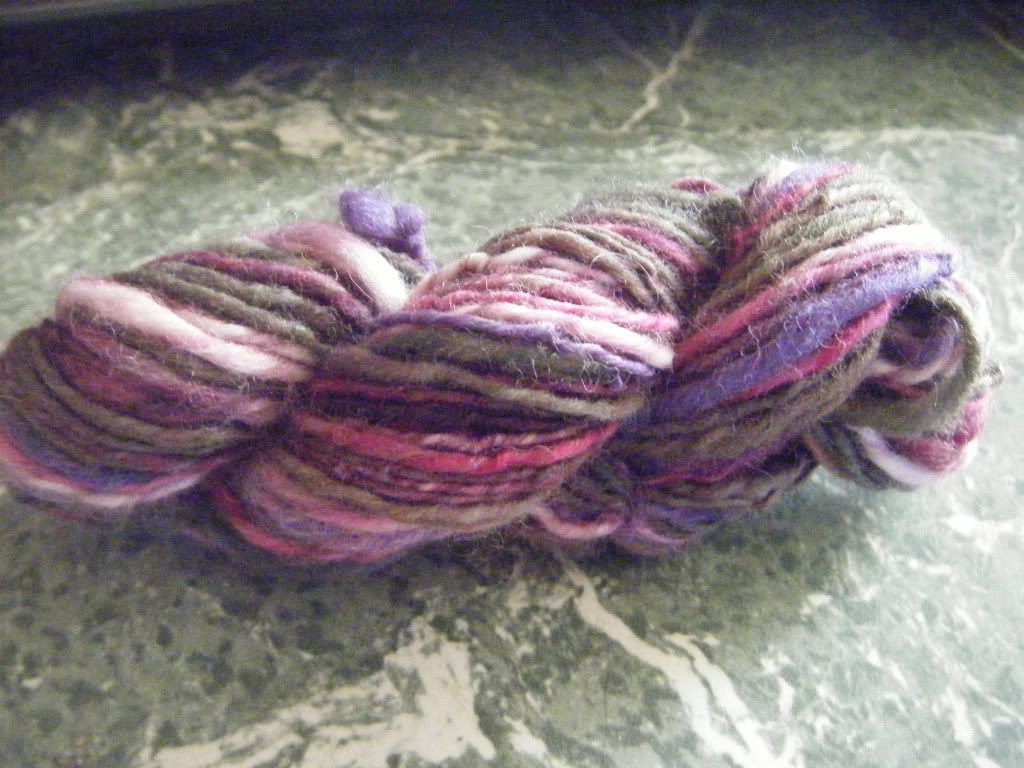 This is about 30 yards that I worked up from a sample that was included in my order!!!! It said Polwart on the tag, and it was sooooo fun!!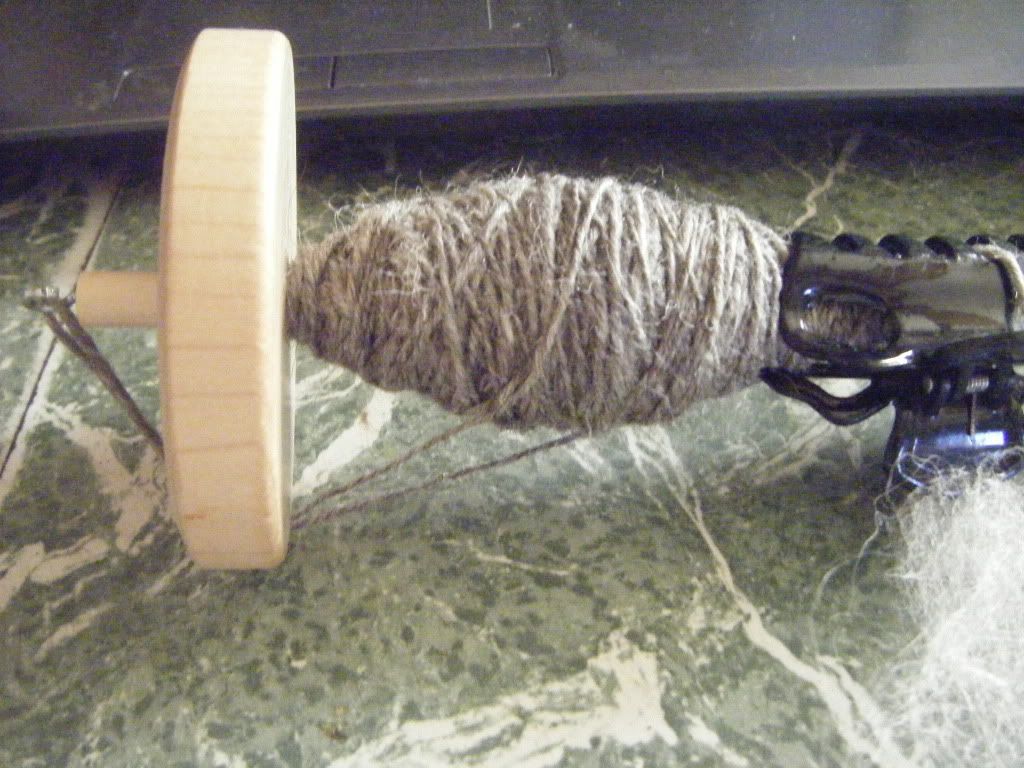 This is the start on 100 gms of shetland. I've got 100 gms of grey, brown, cream, and black to work up!!! I have about 50 gms done so far!!! I have high hopes of this being a small shawl.....
This is the start on a batt of Camel/Tussah that I'm soooooo hoping will be a shawl!!! I've got 2 batts, so I'm planning on plying them together when I get both done!! The color is "Underwater" and is beyond Awesome!!!!!! All from
Corgi Hill Farm
and her service is beyond awesome!!!!!
And for some non-fiber content!!! We loaded up on the the 4th and went to DeLeon Tx and met with my #2 son, Kenny for a visit!!! This is the group of us, DD, DS#2, Me and DH!!!!
And yes, it was sunny and yes, it was hotter than Hades itself!!!!!!! So on that note I'll ask everyone to Pray For Rain for Texas before our state dries up and blows away!!!!
:D Carla